We all must have used or seen a valve or two in our lives; be it shower valves or sink taps, we have come across valves in our daily lives, but they are not control valves because they do not allow you to set or control the amount of flow. An industrial valve allows you to set and control the flow of media manually or automatically. This article will give you a detailed understanding of this device and its applications.
What Are Control Valves?
A control valve is a type of valve that is used to control the flow of a media by varying the size of the passage of flow as directed by the controller. Control valves find use in several industries because they enable the direct control of flow rate. The valve industry has progressed a lot in terms of innovating control valves for different applications.
A control valve is used to control the operating conditions such as pressure, temperature, gas levels, and liquid levels. It accomplishes this function by opening and closing the valves partially or completely after receiving signals from the controller. In industries, valves perform the same function as a shower tap. However, control valves are designed with high precision and are operated by a control system.
Control Valves and Industry
Control valves are widely used in controlling the fluid flow in various industries such as oil & gas, food & beverages, pharmaceutical, marine, and pipelines.
1. Oil and Gas Industry
Control valves form a vital part of the piping system in the oil and gas industry. They are used to control the flow rate, guide the refining process, and isolate the equipment of crude oil. The industrial gas valves help in providing process control over the temperature and pressure in the Oil & Gas industry.
The control valves operate by varying the size of the passage flow as controlled by a hydraulic or pneumatic signal sent by the system. The automation process of these valves enables them to be operated remotely as compared to having an operator constantly monitor the process.
2. Food and Beverage Industry
There are a lot of challenges faced by the food and beverages industry in controlling the fluid flow and temperature, most of which can be solved using China industrial valves. Control valves are popularly used in the food & beverage industry by controlling the incoming feed and moving finished products to warehouses.
The most important task performed by control valves is controlling the temperature to determine the product quality. It is important to carefully select a valve (Valve Selection Guide: Things You Must Know) and tune it for process conditions that are needed to accomplish peak performance. Control valves help get the set point of the manufacturing process and maintain the temperature during the batch cycle.

It is important to choose a reliable industrial valves company that provides a wide range of products that help control the temperature. A control valve solution that has a highly accurate response will help solve all the flow control challenges faced by the food & beverage industry.
3. Pharmaceutical Industry
There are various types of valves used in the pharmaceutical industry for the sterile processes that are required to be maintained. The most common issue in the pharmaceutical industry is containment because it is important to keep the product and the quality of the product safe. Control valves are perfect for containment in the pharmaceutical industry.
The most significant property of valves used in the pharmaceutical industry is their capability to clean and sterilize equipment. The chemical processing industry involves processes that involve high heat and high pressure and control valves that help in the flow control of the chemicals without cross-contamination.
4. Marine Industry
Asian industrial valves & instruments play an important role in the marine industry. The larger the ships, the higher the requirement of generating power, treating wastewater, and performing operational tasks, all of which require valves. The size of the ship will help you determine the number of and different types of valves that will be required on board.
Industrial control valves are used in the marine industry to load and store a ship's power supply and to provide water for various applications. It helps handle the wastewater process and store liquid cargo onboard. The valves that are used in the marine industry should be durable and reliable because they should not rust or react when they come in contact with seawater.
5. Pipeline Industry
There are thousands of crucial pipelines that transport liquid and gases from their source to where it is required and that needs different types of industrial valves. Control valves are used to optimize the operating conditions of the pipelines.
The most important aspect to consider while selecting a control valve for the pipeline application is to check whether it is cleanable from the inside.
Control Valves Types by Design
We have learned till now that control valves are used to control and change the flow path of a media and that they are characterized by their flow coefficient. However, valves are also typed according to their motion and their design. Some of the control valve types by design are discussed in detail below.
1. Ball valves
An industrial ball valve is a shut-off valve that helps control the flow of media by the means of a rotary ball that rotates 90 degrees around its axis to control or block the media flow. Ball valves are characterized by a long service life and they contribute to reliable sealing throughout their lifespan even when they are not being used.
The advantages of using a ball valve include:
It has a low-maintenance design that does not require lubrication
It offers a multi-way design flexibility
It is available at the most economical rates among other valves
It provides a leak-proof service
Some of the common ball valve types include:
Floating Ball Valves: These valves are capable of bi-directional shut-off and balls help improve the valve's leak tightness.
Trunion Ball Valves: They have an added layer of stainless steel that prevents rusting and resolves the issue of excess torque.
3-way Ball Valves: A 3-way ball valve helps divert fluids from a single inlet into two different directions.
V-Port Ball Valves: It helps in easier control and efficient mitigation of pressure flows from two directions
Fully-welded Ball Valves: They are built to withstand high pressures and made to last under constant operation.
Application of Ball Valves:
Ball valves are widely used for controlling the flow and pressure of corrosive liquids and gases in the oil and gas industry. They are commonly used in manufacturing sectors, pharmaceutical containment, and residential uses are well. Generally, any liquid or gas application that requires a bubble-tight service uses ball valves.
2. Check Valves
An industrial check valve is a device that allows the flow of liquids and gases in only one direction. It has two ports, one that lets the media inside the valve and one the works as an outlet for the media. Since the check valves only allow media to flow in one direction, they are also known as "one-way valves".
The important function of check valves is to prevent backflow in any system by using pressure differential. For this reason, they are commonly installed in applications that cause problems because of backflow. Since these valves are one-way, they are cheap and offer easy solutions to solve potential backflow issues.
Some of the advantages of using a check valve include:
It helps prevent backflow in any system
It can sustain high pressures which means that it can be used for long-term operations
It helps serve as a backup system
Some of the common types of check valves include:
Swing Check Valves: Swing check valves help ensure quick and tight sealing using spring-based or gravity-based disks
Lift Check Valves: These valves are built with a guided disk that lifts to release liquids and gases. They have a high-pressure tolerance that helps in long-term performance
Dual-plate Check Valves: These valves effectively prevent water hammering because of their spring-loaded mechanism
Non-slam Check Valves: They help reduce unnecessary pressure spikes and control the flow of media
Tilting-disc Check Valves: These valves offer secure sealing and drop-tight closure to enable flow reversal
Application of Check Valves:
Check valves are commonly used in preventing the backflow of wastewater and potable water. The specific use of check valves depends on the direction and the configuration of the component that it is installed with. Other applications of check valves are found in mining, process industries, pharmaceutical, and power industries.
3. Butterfly Valves
Butterfly valves are the types of quarter-turn valves and they work similarly to ball valves. It consists of a disk that is connected with a rod and it opens and closes when the rod rotates to control the direction of the flow. These valves are used for modulating services and are widely appreciated for their lightweight, economical costs, low levels of footprint, and availability in different sizes.
Some of the advantages of using a butterfly valve include:
A butterfly valve is very accurate, which makes it beneficial in industrial applications
It can be installed or removed without dislocation of the pipe system
It is quite reliable and requires very little maintenance
It has the capability to throttle the flow of media
Butterfly valves come in diverse designs, each of which serves different applications. Some of the different types of butterfly valves include:
High-performance butterfly valves: They are efficient in enhancing the overall performance of the valve application
Triple-Offset butterfly valves: These valves have a low fugitive emission design that is fit for extreme cycling operations
Concentric butterfly valves: Concentric butterfly valves are used in low-pressure applications and offer easy flow control
Wafer butterfly valves: Wafer type butterfly valves consist of multiple centering holes that quickly open and close during pneumatic actuation
Lug butterfly valves: Lug valves consist of threaded bolts that can be applied as the end-of-line service and offer a safe alternative to most valves
Flange butterfly valves: These valves are used for the regulation and flow sectioning of liquids and gases
Metal Seated butterfly valves: The metal seating on these valves help withstand high pressures and resists cracking in high temperatures
4. Gate Valves
A gate valve, as the name suggests, works as a gate to enable the proper flow of liquid by lifting and lowering the gate. It offers an unobstructed pathway, which means that there will be minimum pressure loss over the valve. It also allows for pigging when you need to clean the valve from inside.
Some of the advantages of using a gate valve include:
Using a gate valve will allow very low friction loss
It helps save energy and reduce the total cost of owning a gate valve
It enables laminar flow with minimum pressure loss
Some of the different types of gate valves include:
Wedge Gate Valves: It consists of two inclined seats along with a matching inclined gate that helps in minimizing vibration in the media
Slab Gate Valves: Slab gate valves offer a smooth transfer of media with minimal pressure loss
Knife Gate Valves: These valves have a sharpened edge that helps break heavy liquid mediums
Resilient-seated Gate Valves: These valves come equipped with a rubber surface that absorbs impurities from the medium
Stainless Steel Gate Valves: The stainless steel material provides an added layer of protection to the valves against rust and corrosion
Application of Gate Valves:
An industrial gate valve is commonly used to shut off the flow of fluid completely or provide full flow in a pipeline in a completely closed or open position simultaneously. These valves find great use in underground and above-ground applications that are designed to operate at fully open or fully closed capacity.
While gate valves are generally installed on pipelines as isolating valves, they shouldn't be used to regulate or control the flow of a fluid.
5. Globe Valves
Industrial globe valves are linear motion valves that are commonly used to start, stop, and throttle the flow of a media. These valves are designed with a stem that goes up and down to regulate the flow of liquids and gases inside the valve.
Conventional Globe valves are used for isolation services as well as throttling services. Even though these valves present slightly higher pressure drops than the other valves, they are used where the pressure drop is not a factor that affects the operation of the valve.
Some of the different types of globe valves include:
Straight-pattern globe valves: These valves are suited for regulating high-temperature and high-pressure flow
Angle globe valves: Angle globe valves feature the valve area at 90 degrees to provide greater slugging effects
Bellows-seated globe valves: These valves are effective for chemical regulation with their property to handle high-pressure corrosive media
Y-pattern globe valves: Y-pattern valves are angled at 45 degrees to assist in providing a straight flow path without any resistance
Application of Globe Valves:
Some of the typical applications of globe valves include:
Globe valves find great use in cooling water systems where regulation of the flow is required
Fuel oil systems where flow regulation and leak tightness is significant
Vents and drains where leak tightness and safety are major aspects
Turbine lube oil system
Extraction drain systems and condenser air extraction
Turbine seals and drains
Control Valves by Power
Below are the main valves categories based on their power.
1. Manual Valves
Manual valves are the valves that need a manual operator to operate the valve using a hand lever or a handwheel. These valves are generally used to start and stop the flow of media or for manual throttling. The optimally working manual valves are those that allow the flow to pass straight through the body with minimal or no pressure drop.
Some of the different types of manual valves manufactured by the valve manufacturing industry include:
Flexible Valve: Flexible valves use an elastomeric closure element to allow a straight-through flow of the media
Rotating Valve: These valves use a quarter-turn rotation closure element to provide a direct flow path
Sliding Valve: These valves use a flat perpendicular closure element that enables a straight-through flow
Stopper Valve: Stopper valves use a globe body to allow a straight flow of media through the body of the valve
Application of Manual Valves:
Manual valves that are available in the market today offer two functions of regulating the flow of media and flow measurement of the media. Each manual valve type has its own specification that is suited for a particular application.
2. Electric valves/Solenoid valves
Solenoid valves are used in applications that need the flow of media to be controlled automatically. They are widely used in various types of plants and equipment. There are a variety of different designs such as a solenoid ball valve for water that enables its users to control the flow of water supply automatically.
Some of the different types of Solenoid valves include:
Direct-acting solenoid valve: This valve uses a magnetic force to open and close the valve without depending on any external pressure
Pilot-operated solenoid valves: These valves require very less electrical energy to operate because they can hold their open position even on low power
Application of Solenoid Valves:
Solenoid valves are commonly used in various industries to control and restrict the flow of liquids and gases. These valves are also used to mix liquids of different volumes. In automatic systems, solenoid valves are used to product movements and control the flow of media.
What to Consider Before Buying Control Valves?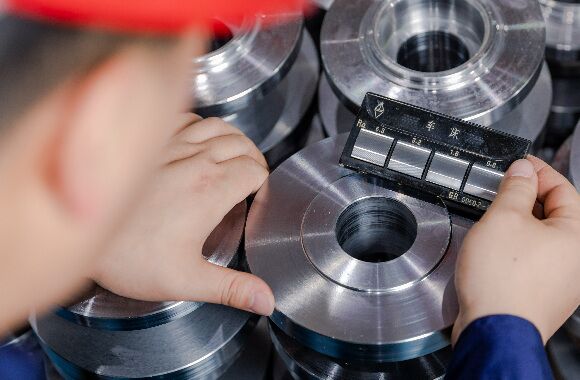 Valves help isolate, control, and regulate the flow of media in various industries. There are several different types of valves starting from manual to semi-automatic to fully automatic. You must properly select your control valve to operate your system safely and efficiently without needing much maintenance.
The first thing to do is to select a cost-effective valve type that is suitable for your application. Next, select the appropriate temperature and pressure rating that will be compatible with the materials of your operating system.
While choosing automated valves, you should consider the type of valve based on its life cycle. The type of the valve and the type of the actuator should be picked based on the amount and frequency of modulating cycles. Additionally, control valves need the sizing and choosing a trim size to make sure that the accuracy and stability of the valve are proper.
Some of the factors to consider before buying a control valve include:
Media Type: The characteristics of the media that will flow through the valve will help you determine the material of the valve that you need to choose
The function of the valve: Determine the function that you need your valve to fulfill
Application Conditions: You need to determine the pressure, temperature, and flow rate that the valve will be operating under, to choose the right size, material, and operating system of the valve
Method of actuation: You need to consider how the valve will be operated- manually or automatically
Maintenance requirements: Choose a valve that does not clog regularly so that you do not need to maintain it frequently
Conclusion
Control valves seem like a technical term to understand but it is an important part of our daily lives. The type of industrial valve to use depends on a number of factors, but the important thing to remember is to approach a reliable industrial valves manufacturer to ensure that you receive a high-quality and durable valve.